Social media can play an important role in delivering and converting visitors into customers for your business. It may be a major portion of your business's online strategy but it won't be a complete solution anytime soon. Likewise SEO is no longer just what happens on the business website. It encompasses everything you and your business do on the web and a portion of its activity offline as well. People will find your business through may avenues as it grows online. A major portion of that foot print may be social media. But proven SEO strategies and traditional SEO techniques are still likely to provide the bulk of your businesses online visitor traffic.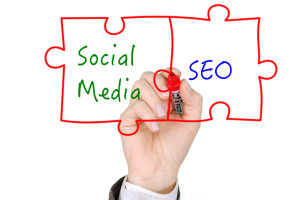 In reality a business needs both Social Media and SEO. In fact its not simple to separate social media from SEO.  SEO techniques work just as well in social media as they do for search.  While the conversation your business has on social media will influence and be influenced by your businesses SEO efforts. It's better to consider social media as one arm of SEO, like guest blogging, PR activity, email marketing and even SEM (search engine marketing).
The holy grail of SEO, relevant content is also the back bone of a businesses social media activity. It doesn't make sense to create content for social media that isn't at least supporting SEO efforts and visa versa.
Any effort your business makes to engage people, inform them and promote your offers should be considered part of your business SEO efforts. All interactions on social media and on the web that result in a person becoming aware of your business brand, products and services, personnel and advertising will influence your business search engine ranking. Social media provides another level of connections between your customers and your business that can be measured and should be tracked as part of your businesses SEO efforts. Metrics are the key to understanding and improving your businesses position online from both SEO and Social media. Quantitative insights learnt from either will assist in making your business perform better in the other.
For instance SEO metrics that indicate a keyword phrase performs better in search for your business would suggest that social media posts with headlines which include that keyword phrase would attract more readers. Like wise images that receive higher numbers of likes in social media would probably be better images for posts on your business blog making them more sharable by readers. Without integrating your businesses social media efforts into its SEO tracking you wouldn't be able to glean these insights and incrementally improve your businesses online presence.
We consider that all business need both social media and SEO strategies which are linked and tracked together. Integrating SEO and Social media metrics is one of the first steps we implement in the Michon international's digital marketing service. It's the back bone we rely on to fine tune online strategies and assess the value of content we create. Without these numbers our business and those of our clients would be flying blind. You can only manage what you measure.
If you'd like to measure your performance online and develop a strategy to stamp your businesses foot print on the web with Social media and SEO contact the Michon team and don't forget to join our ideal customer profile program you'll need that information for any strategy your business implements online and offline.