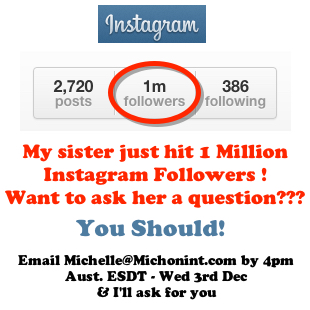 I have some very exciting news for you – my little sister has been running a little old Instagram account for about 2 and half years now, and in the last few days it has hit 1 million followers.  These aren't passive followers – she gets thousands of likes and tons of comments every time she puts an image up.  

What does it mean to have 1 million people interested in your product/service?  As you're a business owner I'm sure you know that it is a very powerful thing that can easily be turned into a profit, after all she knows what they like – all she needs to do is give it to them!

If I told you that I'm going to interview her tomorrow (Wednesday 3rd) about this amazing achievement, would you be interested in listening to it?  And more importantly do you have any questions you'd like to ask her?

You should!

I've spent the last 4 years listening to 'experts' about how to grow your Instagram account, but when I've looked at most of their accounts they have like 1000 – 5,000 followers!  mmm. I guess the people who really know how to build an Instagram audience are too busy doing just that and not putting them selves up as experts?  

My job is to bring you 'real' experts, people who are actually making this stuff work in their business – I'm sure Tammy will give us some amazing insights into what it takes!

So be quick and click here to email me with the most pressing questions you have about using Instagram to build your business…   You have until about 4pm ESDT Aust. Wednesday 3rd.

This is so exciting – like an early Christmas present!

Once recorded, we'll put this interview into a podcast and send you the link – Merry Christmas 🙂

Warmly

Michelle (we're currently in Bangkok, Thailand)

P.S. Tammy has never talked to anyone else about the business side of Instagram – I guess there has to be some privileges to being a big sister 🙂  And I'm so glad I can share her hints and tips with you!

P.P.S. Did I tell you Tammy lives in Tasmania, Australia?